Two IELTS test takers (thanks, J and A!) remembered the following topics and questions from their recent exam in Australia:
Listening test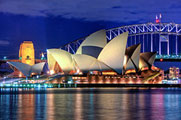 Section 1. A conversation regarding Fresco club membership.
Section 2. A conversation about submarines and underwater vehicles.
Section 3, 4. Don't remember.
Reading test
Don't remember.
Writing test
Writing task 1 (a report)
We were given two tables showing information about foreign students from China and India in the US and Canadian universities.
Writing task 2 (an essay)
Nowadays online shopping becomes more popular than in-store shopping. Is it a positive or a negative development? Give your reasons and examples.
Speaking test
Interview
– What is your full name?
– Can I see your ID?
– Where are you from?
– Do you work or study?
Cue Card
Talk about the country that you want to visit. Please say
– What country is it?
– When do you want to go there?
– How long will you stay there?
Discussion
– What destinations do people in your country prefer to go to?
– Is it important to celebrate birthdays?
– When and where did you celebrate your last birthday?
– How is it important for kids and adults to celebrate birthdays?
– Is it good to make a birthday special?
Get a self study book, for Academic click here, for General here.
Subscribe to IELTS-Blog.com via RSS or via email