When K took the IELTS test in India, he was asked the following questions in Speaking:
Speaking test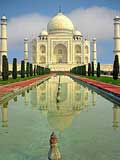 Interview
– What is your full name?
– Can I see your ID?
– Where are you from?
– Do you work or study?
– Do you live in a house or an apartment?
– What is your favourite room?
– How long do you live in your house?
– Who is your favourite teacher?
– What is the role of teachers?
– Would you choose this as your future profession?
– Do you like shopping?
– When do you usually go shopping?
– What was the last thing that you bought?
Cue Card
Describe a singer or a band that you listen to. Please say
– What band/singer is it?
– Where and when did you hear them for the first time?
– Do you still like their music?
Discussion
– What music do people like these days?
– Do you think music producers are mostly money-minded or that they actually care about the quality of music?
Get a self study book, for Academic click here, for General here.
Subscribe to IELTS-Blog.com via RSS or via email