Thanks to A who recently took the IELTS test in Mandalay, Burma we can share these topics and questions:
Listening test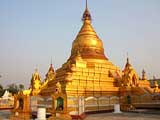 Section 1. Phone enquiry about an office rental including the required facilities (essential, desirable and so on).
Section 2. Information about different kinds of whales including their behaviour and photos.
Section 3, 4. Don't remember.
Reading test
Passage 1. A research about functions of brain in general and memory in particular. Different types of memory were discussed, semantic and episodic.
Passage 2, 3. Don't remember.
Writing test
Writing task 1 (a report)
We were given an emergency exit plan of the second floor of a student accommodation with fire exits A and B for rooms 1 to 8, two ladders, and a lift. We had to write a description of the exit plan.
Writing task 2 (an essay)
Nowadays some governments encourage industrial factories and businesses to move out of large cities. Is it a positive or negative development? Discuss and give your opinion.
Speaking test
Interview
– What is your full name?
– Can I see your ID?
– Where are you from?
– Do you work or study?
– What do you do for a job?
– Do you enjoy your work?
– What kind of music do you like?
– Did your taste in music change since you were younger?
– Why do you like this kind of music?
– Do you listen to other kinds of music?
– What kind of benefits do you get from listening to music?
– Is there anything you would like to do if you had more free time?
Cue Card
Describe something good that you do to help others. Please say
– What do you do?
– Whom do you help? Why?
– How do you feel about it?
Discussion
– Is there anything else you do to help others?
– Do you think countries are obligated to share their research discoveries with other countries?
– Do you think natural disasters are consequences of the nature or caused by human beings?
– Do you think countries should help one another in times of disasters?
Get a self study book, for Academic click here, for General here.
Subscribe to IELTS-Blog.com via RSS or via email