Thanks to A who took the IELTS test in Australia we can share her Speaking questions:
Speaking test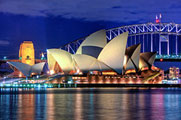 Interview
– Where are you from?
– Can I see you ID?
– Are you working or studying?
– Which day of the week do you like the best? Why?
– Which day of the week do you like the least? Why?
– Given a chance, what daily task would you like to avoid?
Cue Card
Talk about a good law in your country. Please say
– What law is it?
– Why is it a good law?
– Who does the law affect?
– What would have happened without the law?
Discussion
– Talk about the role of a police officer in your country.
– What is the criteria to be a good police officer?
– How about a lawyer?
– What job is more popular in your country, a policeman or a lawyer? Why?
– Do most people in your country abide the law?
– Do you think the law should be broken sometimes? If so, under what circumstances?
Get a self study book, for Academic click here, for General here.
Subscribe to IELTS-Blog.com via RSS or via email