Today I am breaking the routine updates about IELTS exams in various countries to introduce you to our new IELTS teacher.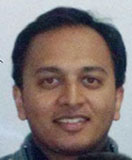 Everyone, meet Nipun Jain. He is a teacher and a finance professional by qualifications, who is working as "centre head" in an IELTS Training Institute (Benchmark) in India, preparing native Indian students for the IELTS test. Benchmark has been running for a couple of years by now, has 5 staff members and handles about 150 students.
As busy as he is, Nipun finds time to help us out in IELTS-Blog, checking and grading your submitted essays. We all appreciate his help very much, let's give Nipun Jaine a warm welcome.
Thank you for your kindness and keep up the great job!
You can reach him at: nip_vik@yahoo.com. Kindly make sure that essays for grading are sent through essays@ielts-blog.com only.