24 December Update: This giveaway is now closed.
Have you heard the word "giveaway" before? If you haven't, it means that you get a chance to win some free stuff. With the holidays right around the corner I've been preparing some gifts for my loyal readers.
Here is what I came up with: this week 2 of you will win an IELTS book, shipped to your door, for free (no matter where you are in the world). The books you'll win are two of my best-sellers, that will make your exam preparation SO much easier:
1. "Ace the IELTS" for General Training module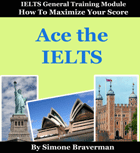 Here's a happy customer:
"I teach IELTS and own over ten IELTS books. This is one of my favourites because the author has delivered excellent information in a short, user-friendly book.
Importantly, it is written in plain English so it is easy to understand. It focusses on plenty of useful tips and tricks which can be of great benefit for anyone who is going to take the IELTS test.
D. Bottaro".
2. "Target Band 7" for Academic Module of IELTS.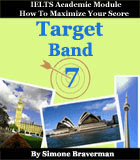 People on Amazon.com say: "Its a very good book. I had very short time to prepare for IELTS, this book has so useful tips which helped me a lot to prepare in just 15 days.
Listening and reading sections have some useful tips which prepares you for the real exam and tells you how to manage the time as well. I improved my writing skills too.
Overall an excellent book, just go for it!
Amarvir Khangura."
Here's how to enter this giveaway
Please answer 3 simple questions:
1. What is your biggest problem in the IELTS preparation?
2. Why do you need to take the IELTS test?
3. What Band Score do you need to get and in what module (Academic / General)?
You can answer by
a) leaving a comment on this blog post (click here and scroll down to comments link),
b) using this contact form (click here) or
c) sending me an email to simone[at]ielts-blog.com.
Deadline: this giveaway will close on December 24, in exactly 3 days.
All the emails of people who answered the 3 questions above will be included in the lottery. We will randomly pick the 2 lucky winners. They will be notified via email and their names will be published on December 25th. Every winner will get to choose which book he / she would like to get, and once they provide a postal address, the books will be shipped immediately.
Looking forward to reading your answers!