Hey, you're new here! I love new people, welcome.
You may want to subscribe to IELTS-Blog and get all the updates via email or via RSS feed. Thanks for visiting!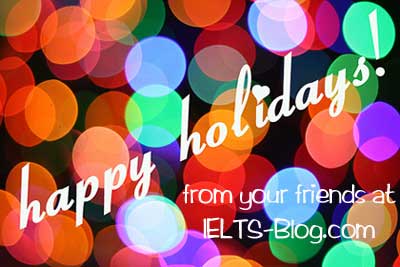 This Holiday Season we would like to wish all our readers and their loved ones Peace, Hope and Love.
Have a wonderful holiday!
Related posts:
Happy New Year 2014! Dear readers! This is Simone Braverman, happy to welcome you...
Best Australian Blogs 2014 IELTS-Blog Won Peoples Choice Award! When your day starts with something like this, it can't...
She only used IELTS-Blog.com and got Band 8.5 in IELTS Nisha M is one of the October winners of our...
Get a self study book, for Academic click here, for General here.

Subscribe to IELTS-Blog.com via RSS or via email